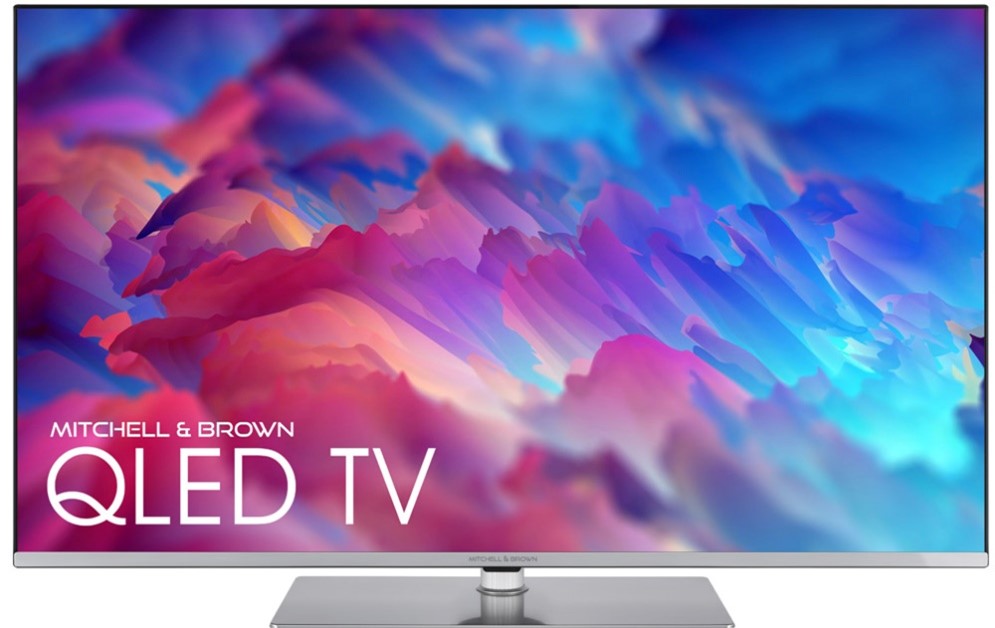 Bolton-based Mitchell & Brown has strengthened its TV line-up to compete with major TV brands: QLED technology TVs with class-leading seven-year warranty.
November 2022, Bolton, UK: The UK's favourite domestic TV brand, Mitchell & Brown, has announced a range of QLED technology TVs to compete on picture performance with the Big-4 TV brands, bringing its outstanding customer service and 7-year guarantee to all models in the QLED range.
Building on the strengths of its LED 4K Smart TVs with near borderless design, Mitchell & Brown's new QLED screens use Quantum dot Light Emitting Diodes to supercharge the picture's brightness and colour. QLED TVs produce a picture 30-40% brighter than most OLEDs but, thanks to the very energy-efficient technology use much less power doing so. That benefit combines with QLED's ability to produce brighter hues across the colour spectrum without losing saturation to deliver exceptional picture results in even the brightest of rooms.
With Android TV smart features and leading imaging technologies such as 4K UHD resolution and Dolby Vision High Dynamic Range, Mitchell & Brown's QLED models put the brand in the top tier of TV tech brands. The series adds premium sound with built-in subwoofers on the larger models (50 & 55), and a unique swivel-action aluminium pedestal base, allowing users to achieve a range of viewing angles without having to lift the TV.
"Bringing QLED TVs to market is a pivotal move for the Mitchell & Brown brand," says Operations Director Dan Brown. "The technology puts our products on an equal performance footing with the TV giant brands, yet our outstanding UK customer support and famous 7-Year guarantee on every model adds a level of customer service that no other brand can offer. From humble beginnings, this family business from Bolton has been taken to heart by UK retailers and customers alike and is now becoming a major TV brand on the UK High Street."
The new QLED range will be available in November and covers 43″, 50″ and 55″ screen sizes, all boasting 4K UHD resolution, Android TV for smart features, and a raft of picture-enhancing technologies including Dolby Vision High Dynamic Range. Backing up the picture with high-performance sound, all the new QLED models come with Dolby and DTS Audio built-in and integrate a speaker box enclosure and subwoofer (50, 55 only) to deliver cinema scale sound.
The design follows on from Mitchell & Brown's popular 'The Edge' 4K UHD TVs with a near borderless frame surround and silver trim along the lower edge, with a new brushed metal pedestal stand. Light and slim, all models can be wall mounted using standard VESA wall mounts or any of Mitchell & Browns' compatible brackets.
With Freeview Play and apps for all the popular streaming services like Disney+, Apple TV, Netflix, Prime and YouTube on board, these feature-rich TVs can also be controlled by voice thanks to Google Assistant built-in. Connectivity includes 3 HDMI sockets as well as USB input, Wi-Fi and a headphone socket for late-night listening.
The new Mitchell & Brown QLED TVs will be available from High Street retailers in November:
JB-55QLED1811 – SRP £749.00
JB-50QLED1811 – SRP £649.00
JB-43QLED1811 – SRP £549.00
Trade enquiries
Full details of Mitchell & Brown's 2022 TV portfolio can be found at www.mitchellandbrown.co.uk.